In case you haven't heard (you poor thing),
the CW is developing a TV show based on Little Women
. And the description... well, I'd say it defies words, but it's made of words, so just read it:
Written by [Alexis] Jolly, Little Women is described as a hyper-stylized, gritty adaptation of the 1868 novel by Louisa May Alcott, in which disparate half-sisters Jo, Meg, Beth, and Amy band together in order to survive the dystopic streets of Philadelphia and unravel a conspiracy that stretches far beyond anything they have ever imagined – all while trying not to kill each other in the process.
Every time I think I know how I feel about that description, it turns out I was wrong. Am I horrified? Excited? Anxious? Confused? I have no idea! All I know is one thing: This show absolutely
must
be made real. I don't know that a gritty, dystopian
Little Women
TV show is something that
needed
to happen, but now that the idea's out there, it had
better
happen. And it honestly has a better shot--both at being picked up and at being good--on the CW, a network that is currently experiencing something of a golden era of female-driven shows, literary adaptation shows, and genre shows, than it would on any other channel.
While we wait to see what happens, though, my sister and I have decided to prod the CW along with the widely-recognized gold standard of anticipatory fannish activity: a fantasy cast. So look no further, dear reader; you have found the One True Gritty Dystopian
Little Women
Cast Line-Up.
Emily Kinney as Meg March
The eldest of the March sisters, Meg provides stability, kindness, and a guiding hand, while hiding an independent streak behind a strong sense of propriety. Kinney has proved herself more than capable of playing a sweet character with a steel spine--and her trademark is bringing sympathy and warmth to a gritty, post-apocalyptic setting setting.
Lindsey Morgan as Jo March
Second child Jo March, the lead of the book, is the wild card of the March family. She's smart, loud, brash, has zero sense of propriety, and is the least warm and nurturing of the four March sisters. And she has a serious temper. But she would do anything for her family. People who've seen The 100 (I know you're out there!) will recognize that as a pretty spot-on description of Morgan's character Raven Reyes. It'd be a wrench to lose her from that show, but she'd kill on Little Women.
Amandla Stenberg as Beth March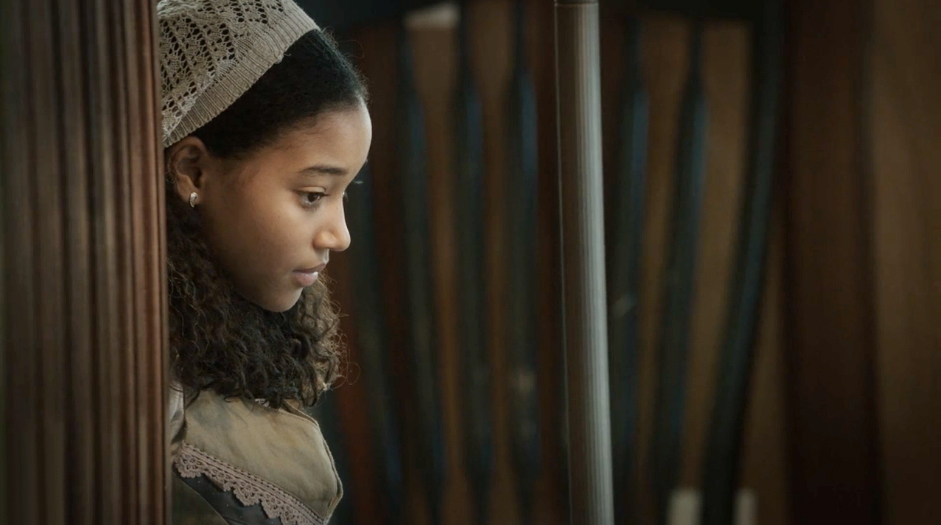 Beth is the quietest of the March sisters. Sweet, generous, and incredibly family-oriented, her rebellious streak shines through only when she's standing up on behalf of someone else. Stenberg's been adding quiet humanity to brutal post-apocalypses since 2012.
Kiernan Shipka as Amy March
Youngest child Amy is self-obsessed, a little bit vain, and cares a lot about appearances--but without the same understanding of propriety that Meg has. She's impulsive and self-centered, but when her sisters set her straight, she'll do the right thing. Because Amy, like all the March sisters, does care deeply about family. Alone of the four actresses playing the March sisters, Shipka did not make her name in a post-apocalyptic movie or show. But she did a phenomenal job on
Mad Men
portraying a young girl growing and maturing in a restrictive society.
Susanna Thompson as Marmee
Marmee was the original rebel of the March family--that's where her daughters got it from. She loved her children fiercely, and wanted the world for them, but she respected their independence above all else. And she never believed that their gender should hold them back. Thompson has played more than one ferocious mother in her time, and fans of the CW's Arrow should have no trouble imagining her as the March matriarch. Moira Queen may be more cut-throat than Marmee, but the family dedication is definitely there.
John Cho as John Brooke
John Brooke is Meg's love interest, a sweet, solid, studious, and upstanding man of limited means. John
Cho
is amazing, makes everyone who watches his shows want to hug him, and needs to be in more things. No-brainer.

Ian Harding as Theodore "Laurie" Laurence
Laurie starts out the book as an impetuous, spoiled, but ultimately good-hearted friend of the March family. Unfortunately, after Jo turns down his marriage proposal, he runs off to be a shithead playboy in Europe. Various unhappy and spoilery events finally calm him down, and he comes back to the fold as a wiser man, but he's a divisive character, to say the least. Luckily, Harding has half a decade's experience bringing charm and genuine likeability to a slightly skeazy character on Pretty Little Liars. (Plus, CMU alumni REPRESENT!)
JR Bourne as Professor Bhaer
The other leg of Jo's love triangle, Bhaer is an incredibly smart man who, due to his immigrant status, can't get the kind of work he deserves in America. He is staid, but tender, and Jo is drawn to him because he treats her as an intellectual equal. Like all "other legs" of love triangles, a sizeable portion of the fanbase hates him, but whatever. Anyway, Bourne's ace at calm-but-intense, and he's attractive and likeable enough that the CW might be able to overlook the (canonical!) age difference